CES 2023 Showcases Ubiquitous Broadband Connectivity
Tracking the trends of 'fog' data and distribution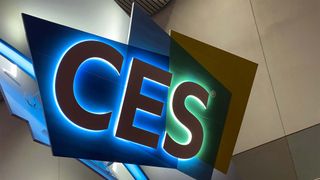 (Image credit: Jimmy Schaeffler)
John Deere. Canon. Mercedes. Samsung. Hyundai. Sony. Honda. Peterbilt.
Each one and all eight see these two highlighted things in their future. As does the entire global — but especially the Unites States' — health industry.
At CES 2023 (the Consumer Electronics Show just passed) nearly every press conference, booth visit, conference session and even most one-on-one meetings involved at least an unspoken element of both the below items. I did not travel far, and long hours, expecting these two. But I sure found them in spades.
One was data. Indeed, data appears to be part of nearly every future business. While 10 years ago I looked and found few data applications, today it's a surprise when I don't see them.
This leads to No. 2: delivery. Data has far less capability if it cannot be properly distributed to other devices, small or large, nearby or far away.
This suggests two things for most future businesses: first, get deeper into data, including data management and enhancement; and second, the foundational forms of data distribution — such as fiber, and via spectrum services, i.e., wireless and satellite — are worth keeping and enhancing, in lockstep with data collection.
In two long days at CES 2023 last week in Las Vegas, the snapshots below — especially the future of the U.S. health care session — tell a story of future fascination, and of ubiquitous broadband connectivity.
The "fog" in the title above represents the new industry moniker, representing all the interchange of data signals and the transport of that data between devices. This "fog" is expected to get so much thicker in the years and decades ahead (see Fog Computing (opens in new tab)).
This list below is a peek into the plans and planning of some of the biggest names in consumer electronics (and related businesses). They include a glimpse of how each one will carry the torch of distributing data between devices, to enhance just about every part of — and item within — each part of their product and service ecosystems.
Canon
The Japanese electronics giant touted its celebrity director-turned-spokesman M. Night Shyamalan. The Hollywood legend cheered Canon's new virtual reality (VR) headsets under the MReal brand name (together with the Canon software called Kokomo). Additionally, a panel of sports and entertainment executives highlighted low-latency data delivery and collection, to enhance not just the consumer consumption of sports content, but also uses such as improving player and team performances (see Canon at CES 2023 (opens in new tab)). Data distribution was embedded in the entire presentation.
Mercedes
From only a broadband connectivity POV, the titan German vehicle creator, Mercedes-Benz (opens in new tab), focused its enhancement of what it calls its in-vehicle "holistic" use and entertainment experience. Key to that, a spokesman explained, is enhancing the simplicity of a customer's "simple connectivity." He offered further, beginning in the U.S. this year, customers will be able to "just start a new Mercedes app and immediately get directly into the vehicle's connectivity." (See The Standout Cars and Tech of CES 2023 (opens in new tab).)
Samsung
Samsung is the other huge South Korean conglomerate I visited at CES 2023, and like its fellow Asian electronics entity, Hyundai, Samsung avoided a focus on its main lines, instead pumping messages tied to its lesser-known products (opens in new tab). In this case, the Samsung tagline was "Bringing Calm to our Connected World," the highlight of the "connected" feature being Samsung's claim of 14 billion connected devices in the world today. Home, car and workplace were the three centers of that connectivity message, championing Samsung's "SmartThings" application, and a Samsung-estimated 80 million connected devices, themed around … you guessed it, "sustainability." Broadband connectivity of all that data is paramount.
Hyundai
Hyundai, best recognized in the U.S. for its automobile expertise, spent most of its press conference block highlighting its global shipping, notably ships at sea. Ocean mobility and energy collection were themes, both also immersed in data and data delivery. Hyundai claimed that 40% of the world's population lives within 40 miles of a coastline, emphasizing the relevance of actions aimed at the world's oceans. "Hyundai leads the era of smart mobility by providing a platform that combines software and associated hardware, called Mobis," extolled an online press announcement (opens in new tab).
Sony + Honda
Saving its biggest and newest news for last, one of the oldest and largest of the pioneer Japanese consumer electronics concerns, Sony, began predictably illustrating its own latest gaming and VR developments. This was focused on its Gran Turismo product and service. A new Sony camera, labeled "Venice," coupled with an app called Leonardo, both focusing remarkably on the disabled, and those folks' abilities to also thrive in a gaming environment. The last 15 minutes of the Sony conference drove home its alliance with its country partner and giant vehicle manufacturer, Honda, to create a new mid-sized road sedan, branded "Afeela." Needless to say, with 45 total cameras, 16 of which are inside the Afeela car, the importance of data collection, transfer, management, and seamless transfer back and forth will be paramount to its success — inside and outside the car. Further technology foci were autonomous driving and in-car entertainment. Sony's spokesman used the phrase, "Everyone and everything intelligently connected" (See Electric Pickup Trucks, Flying Cars and More at CES 2023 (opens in new tab)).
Toyota
The MX221 model of Toyota transport (opens in new tab) features an autonomous, self-driving taxi service, planned for delivery into global markets by 2030. An amazing set of service and entertainment features operate — again, like so much in the consumer technology world today — only because of data and interconnectivity. But one single example, is the spectrum needed to send a drone that drops lunches through the sunroof while the vehicle moves. In-car safety and health monitors, and maintenance and repair, are centered, too, around fog-type interchanges of properly delivered and distributed data. This innovation, too, homes in, like the Sony-Honda vehicle, on capabilities for the disabled.
Peterbilt
The giant U.S. long-haul truck company brand from Denton, Texas, mixed at CES 2023 with partner truck makers and truck ecosystem supporters, PACCAR, Kenworth, and DAF. Working hand-in-hand with mobile-cellular applications aimed at different functions dependent upon whether moving or not, fixed wireless is the other side of the wireless coin that makes these newest machines work, and work better and better, it seems (See, Peterbilt Showcases Advanced Truck Technology at CES (opens in new tab)). Peterbilt's focus on autonomous vehicles will necessarily involve both mobile and fixed wireless applications.
John Deere
A huge, fully autonomous, self-driving tractor. How could that possibly exist without reliable broadband connectivity of the highest order? The challenge then becomes getting the best signal for the best value to these rural- and agricultural-based users. After all, how much sense does it make to try and install a wire into a moving combine? The answer is obvious: wireless connectivity is necessary and likely will be a huge part of the foreseeable future. While moving in the open fields, that signal would likely be mobile-cellular based; yet, while parked overnight in the rural barn or warehouse, the software updates in more cases than most would be best delivered via fixed wireless (in large part because installing fiber to singular remote farms and ranches is most likely remaining impractical for a long time to come!) (See, John Deere (opens in new tab); and see, John Deere Keeps Revolutionizing Farming (opens in new tab)).
And a Bonus CES 2023 Presentation: The U.S. Health Industry
A last session of day two delivered the ultimate and perhaps most important and impactful version of the CES 2023 "Ubiquitous Connectivity" message. At the end of the hour-long session, each on-stage session participant was asked: What was the key takeaway for the audience vis-à-vis medicine and technology heading into 2023? To a doctor (there were five on the stage), digital health technology will change medicine primarily in the form of "data," each opined. This meant not only data creation, but data management, and their closest sibling, distribution of that data.
In Sum
The obvious common CES 2023 thread: broadband connectivity.
The bottom line: If you can, hang onto your fixed wireless and/or hybrid fiber wireless business. Or, if you are not yet in it, consider becoming so, in some related fashion (See, e.g., Big Ambitions: Oregon Co-ops Buy Majority Stake in Data Center (opens in new tab)). The data fixed wireless and related businesses will soon distribute is moving toward the center of more and more broadband connectivity. Why? Because every business is morphing to data; and most data only makes sense if it can be efficiently and affordably exchanged; in more and more instances, wireless will be the only way to exchange that data; and not all of that will be mobile/cellular wireless; fog will pervade — frequently involving fixed wireless and hybrid fiber wireless combinations, and eventually change the way we do just about everything. The future of data will never be limited to just wires or satellites. ■
The smarter way to stay on top of the multichannel video marketplace. Sign up below.
Jimmy Schaeffler is chairman and CSO of The Carmel Group, a nearly three-decades-old west coast-based telecom and entertainment consultancy founded in 1995.