Standard General-Tegna Merger Offers New Ideas, Needed Diversity
Chamber of the Americas CEO Gil Cisneros says deal will give local TV a needed boost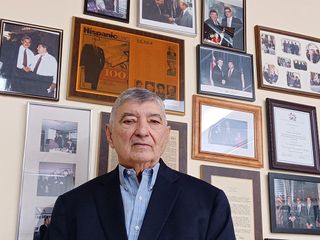 (Image credit: Chamber of the Americas)
As chairman and CEO of the Chamber of the Americas, I proudly support our organization's mission to facilitate trade and investment that strengthens local economies and fosters a spirit of harmony, social and economic justice in the international community, creating a society for the greater good of all humanity. But none of this is possible without well-informed citizens.
Over the past two decades, there have been rapid changes in the way we get our news. From the increased social media presence to the closing of local newspapers across the country, the preservation of local news sources is imperative. Now more than ever, the future of local broadcast journalism depends on new strategies and investments to keep the industry functional and afloat.
Standard General's pending acquisition of Tegna broadcast stations will give the industry exactly the boost it needs. Standard General has outlined a vision for the future of local news driven by its investment and modernization strategy in broadcast stations across the county. Standard General's experienced leadership team has pledged to employ a decentralized approach to station management and allow each station manager to tailor news programming to best serve the community it covers.
My work with the Hispanic community across the country and abroad has given me a front-row seat to the changing demographics of our society. Yet despite these changes, the broadcast industry is still lacking diverse representation at senior levels of leadership. Standard General's CEO, Soo Kim, is a well-respected minority business leader who is committed to creating opportunities for minority communities and women leaders.
Mr. Kim, a Korean immigrant and now a proud Asian-American, is a living example of the American dream. His commitment to enhancing diversity in broadcast news and media generally is absolute and a transformation the industry must make to stay relevant with minority consumers. Minority newsrooms, reporters, and owners will not only attract more diverse viewers, but also better ensure local news is more reflective of the increasingly diverse U.S. population and the needs of their local communities.
In 2020, Hispanics were the largest (opens in new tab) U.S. ethnic minority, making up 18.7% of the general population, but diversity in the media has failed to keep pace and evolve as America's demographics rapidly diversify. Without adequate representation, both in newsrooms and television boardrooms, minority Americans are denied access to trusted journalism that is relevant to their lives and individual situations and coverage that is meaningful to them. And that's a lot of people, as minorities of all kinds, but especially Hispanics, play an ever larger role in the U.S. society and economy.
Progress has been made since the early days of television, when broadcast journalists were almost exclusively white men, but minorities still don't have full participation in television news. A 2022 study (opens in new tab) from Syracuse University estimated a total U.S. minority population of just under 40%, but found that minorities made up only 25.5% of the television news workforce. Standard General's commitment to newsroom diversity can be a strong force for change at the Tegna stations.
As I have dedicated my career to supporting minorities in business, I am proud to support minority leaders like Mr. Kim playing a larger role in an industry that is so important to the future of our communities.
I urge the Federal Communications Commission to stand up for diversity in media and approve this transaction. It's time to send a signal to minority media investors that times have changed and American media needs your passion, new ideas, and diverse perspectives to lead it into the future. ■
Broadcasting & Cable Newsletter
The smarter way to stay on top of broadcasting and cable industry. Sign up below.
Gilbert (Gil) Cisneros is chairman and CEO of the Chamber of the Americas.