Speaker McCarthy, Use Your Power Over Television Coverage Wisely
House leaders should loosen their grip on cameras in the Capitol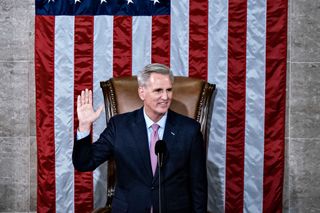 (Image credit: Al Drago/Bloomberg via Getty Images)
After the chaotic process that led to the 15th-round election of Rep. Kevin McCarthy (R-Calif.) as the new Speaker of the House of Representatives, there is much talk about how much power he needed to give up in order to achieve his narrow-majority victory. But even with the new rule changes for the 118th Congress — such as allowing for a single member to make a motion to vacate, triggering a vote on retaining the Speaker — there is one clear power that Speaker McCarthy has not forfeited. That's the power to let C-SPAN have unrestricted camera access to House proceedings, as it did during the dramatic events leading up to the final vote tally.
American viewers of all political stripes were riveted by seeing, for the first time ever, how complicated the back-and-forth machinations of our legislators can be. Who will forget the live images of Rep. Mike Rogers (R-Ala.), the new chairman of the House Armed Services Committee, being forcibly restrained from attacking Rep. Matt Gaetz (R-Fla.), who refused during the 14th round a vote change to enable Kevin McCarthy to cross the finish line? Or seeing Rep. Marjorie Taylor Greene (R-Georgia) as she waved around her smartphone with the incoming initials DT to indicate that former President Donald Trump was trying to reach Rep. Matt Rosendale (R-Mont.) in order to bring him into the pro-Kevin fold?
Since it began operating on cable television systems nationwide in 1979, C-SPAN has provided live coverage of House sessions. But ever since then, the Speaker has exercised a power provided in that chamber's rules which restricts what the cameras can actually show to viewers. Given that many legislative activities involve set speeches to only a handful in attendance, viewers are not allowed to see the sparse audience or the reactions of individual members.
It is reality TV in genre, but not in reality itself. The Speaker traditionally has exercised a tight level of audio and visual control that surely will seem anachronistic now that everyone has been able to get a glimpse at the inner workings of a legislative process often described as sausage making.
Maintaining this new level of transparency seems to have support from Speaker McCarthy's most fervent supporters, too. In his nominating speech for McCarthy on the House floor (opens in new tab), Rep. Mike Gallagher (R-Wisc.) succinctly conveyed the larger import of a television policy that would enable voters to see more, even if it lacked the purpose or polish of a Congressional press release. "Sure, it looks messy, but democracy is messy. Democracy is messy! Democracy is messy by design. By design! And that's a feature, not a bug of our system. We air it all out in the open for the American people to see because, at the end of the day, the president's not in charge, the Supreme Court's not in charge and the Speaker of the House's not even in charge; the American people are in charge."
With the gavel now finally in Kevin McCarthy's hands, he can make a firm imprint as Speaker by relaxing just when and how widely C-SPAN's cameras can roam. And I suspect that if public opinion is solicited about making such a move, it would overwhelmingly support this new level of civic openness.
Put simply, there is no rational reason to put this proverbial genie back in the bottle. As comedian Jon Stewart noted in a pithy Tweet (opens in new tab), "This is the best season of cspan [sic] … ever." The viewers have spoken, and Speaker McCarthy would be well-advised to make sure that our screens remain in living color instead of with a static test pattern once more. ■
Broadcasting & Cable Newsletter
The smarter way to stay on top of broadcasting and cable industry. Sign up below.
Stuart N. Brotman is the former president and CEO of The Museum of Television and Radio in New York and Los Angeles (now the Paley Center for Media). He is the author of The First Amendment Lives On.