Red States Would Be Biggest Winners from Extending Affordable Connectivity Program
President Biden should push to fully fund program in the next federal budget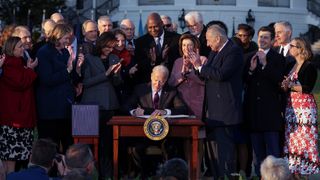 (Image credit: Alex Wong/Getty Images)
Imagine if the family cars of 16 million American households suddenly vanished — transportation to work, school, doctors and stores suddenly cut off. For many, such a devastating loss would jeopardize their employment, education, healthcare and everyday family needs.
Now imagine if home broadband for 16 million American households enrolled in the Affordable Connectivity Program (ACP) abruptly disappeared: Loss of an internet connection would have many of the same repercussions. If our nation's next federal budget doesn't include dollars to extend the ACP, this modern-day nightmare could become reality for millions of Americans as soon as next year.
The Infrastructure Investment & Jobs Act (IIJA) is investing $42.5 billion toward broadband infrastructure to help people in every corner of America maintain high-speed internet at home. This is smart policy, as the past three years clearly demonstrated the criticality of internet access in modern American life.
The IIJA passed the Senate by a resounding 69-30 vote. Broadband availability is the all-too-rare policy issue backed by both progressives and conservatives, and logically so. Progressives note the consistent overlap between digital divides and social divides, with internet have-nots more frequently among communities of color or more vulnerable populations. Conservatives recognize that high-speed internet is critical to education and employment and that people who can work and children who can learn contribute more to, and need less from, the government in their lifetimes.
But broadband affordability is an even bigger (opens in new tab) issue than availability.
Rural Americans, in particular, benefit from financial assistance that the ACP provides. In fact, the states with the highest program participation rates (opens in new tab) are red and rural, and two of the four states that have broken the million mark in total number of households enrolled in the ACP are Republican-led. Struggling farmers need broadband just as much as striving students in the inner city.
A 2019 study estimated (opens in new tab) that better adoption of online tools and digital services by businesses outside metropolitan areas could create 360,000 new full-time jobs in rural areas and add more than $140 billion to the U.S. economy over the subsequent three years. Permanently solving the broadband affordability challenge, in addition to closing the availability gaps, would ensure that 30 million rural citizens and thousands of small businesses have access to the network that unleashes innovation in education, retail, entertainment, and many other industries.
What's more, the Affordable Connectivity Program enables participants to shop among broadband providers, which increases competition in the marketplace. This competitive pressure keeps pricing in check and benefits consumers by significantly expanding their provider and plan choices. Rather than a one-size-fits-all plan, these families in need can select the level of service that best suits their needs, pushing providers to keep their offerings competitive across the board.
America can expect a good return on its investment to make broadband affordable for every household. Research (opens in new tab) shows a high correlation between increased broadband penetration and GDP growth, with some studies even suggesting a causal relationship. The World Bank estimated (opens in new tab) that a 10 percentage point increase in broadband penetration can lead to a 1.2% jump in real per capita GDP growth in developed economies.
In addition to economic gains, the social benefits of home broadband are immeasurable. Today, meaningful participation in society depends on being connected. From doing homework to seeing pictures of friends and family, the value of ensuring that all Americans can afford broadband can't be overstated.
President Joe Biden should include a fully funded Affordable Connectivity Program in the budget that he'll soon submit to Congress, and Republicans should quickly embrace this item, as the data confirms that their constituents are reaping the benefits of broadband. Rather than creating a nightmare for millions of people chasing the American dream, our leaders can help them achieve it. ■
The smarter way to stay on top of the multichannel video marketplace. Sign up below.
Bruce Mehlman, who served as Assistant Secretary of Commerce for Technology Policy, co-founded the Internet Innovation Alliance (IIA) in 2004.