Predicting the Top Trends in Media for 2023
Audience measurement, consumption shifts and the future of sports rights are top of mind for the new year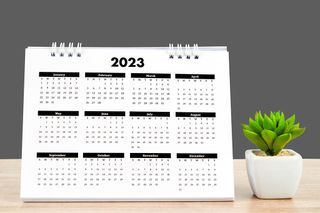 (Image credit: Pakin Songmor)
What will people be talking about and adjusting to throughout the year?
The new year is ushering in fresh opportunities and carryover challenges in the media landscape. Many are continued trends from the past couple of years around data privacy and measurement. Others are newer trends as viewership changes continue to shift and more emphasis is put on profitability for media companies. Here are some expectations we see on the near horizon:
Measurement and Data Privacy Shifts: As rules and regulations around consumer data privacy continue to grow, advertisers will continue to explore alternatives to cookie-based and multi-touch attribution (MTA) solutions for targeting, measurement and attribution, including data clean rooms, media mix modeling and geographic-based media experimentation. Additional alternatives will include survey and zero-party data (data a user shares intentionally with a company).
Media mix modeling is the highest in demand right now in terms of emerging alternatives followed by experimentation. Clean rooms and zero-party data are supplemental at this point.
The media industry, unfortunately, remains no closer to establishing standards of measurement and attribution. As far as digital tracking, targeting and measurement, everyone is still very cookie-dependent and will remain so until forced to do something else. These solutions will be additive to the measurement and data-tracking arsenal. As long as cookies are viable, cookies will remain the preferred tracking, measurement and targeting option.
Media Consumption Continues to Shift to Influencer-Based Content: Media consumption continues to shift to growth and value in the creator economy. YouTube, TikTok, and Meta have given independent creators a platform to develop large and loyal audiences that brands can connect with. TikTok, especially, will grow exponentially compared to the other "legacy" digital platforms, according to findings in the EMarketer Influencer Marketing 2022 report.
Media Consolidation Among Streaming Platforms: Some companies lack the scale to compete in streaming (AMC, Paramount, etc.,) as the new streaming bundles from the likes of The Walt Disney Co. and Warner Bros. Discovery begin to look a lot more like siloed cable-TV bundles. But pressure is on the big players as well with an increased focus on profitability. A swift change in leadership atop Disney at the end of last year put share price in the spotlight as well as weaknesses in Disney's various businesses — such as streaming platform Disney Plus likely not becoming profitable until 2024. Given the challenges in continued growth and pressure on profitability, streamers will look for ways to cut costs or find new areas for growth, which could include further consolidation (buying other streaming services) and bundling.
Sports Rights Deals: A lot will happen in terms of sports rights deals in 2023 as more value is put on individual league deals, exclusive deals like "NFL Sunday Ticket" and the future of the regional sports networks given their current ties to limited cable TV bundles. Players like Apple, Google and Amazon have the ability to use their cash to make large jumps in the streaming space very quickly by purchasing streaming sports rights deals, as Google just did with NFL Sunday Ticket for YouTube. There is also talk of the sports leagues themselves (Major League Baseball and the National Hockey League in particular) buying back some of the sports rights deals to distribute through their own streaming services.
Audience Measurement with Alternative Currencies: Now approaching the one-year mark in which many agencies and advertisers began dipping a toe in the water of alternative currencies to Nielsen (iSpot TV, VideoAmp, and Comscore primarily), it remains to be seen how advertisers will react to the multiple tools available for measurement of cross-screen TV and video campaigns. The most likely scenario is that each network group will begin to provide preferred deals to advertisers, as we have already seen with NBCUniversal and Warner Bros. Discovery, while Nielsen continues to remain the most preferred currency across partners.
Social Trends with a Focus on AI and Privacy: Twitter continues to shed advertisers and users as it struggles with brand safety, content moderation, and executive departures following Elon Musk's acquisition of the platform. TikTok continues to increase its share of video time spent, providing consumers with an effective quick hit of entertainment dopamine. Meanwhile, a bill to ban the platform is gaining steam in Congress.
Will TikTok eat our brains in 2023? Is the metaverse a bucket of hogwash? Those questions will fade into the background as more people adopt the next generation of social media with ChatGPT and the real question will become, what do the new advancements in AI mean for how machines will play a role in our daily lives? ▪️
Broadcasting & Cable Newsletter
The smarter way to stay on top of broadcasting and cable industry. Sign up below.
Dave Coleman is president of Ocean Media, an independent media buying agency based in Huntington Beach, California.