Phoenix Suns Could Have Big ATSC 3.0 Distribution Plans, and Other Teams, Including the Utah Jazz, Might Soon Follow
Why we could be witnessing the emergence of an innovative post-RSN distribution scheme, pioneered by failed startup Evoca, that finally utilizes the vast potential of NextGen TV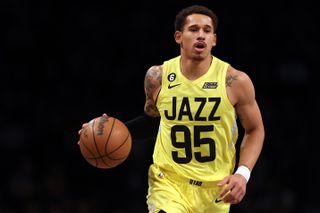 (Image credit: Photo by Jamie Squire/Getty Images)
In December, media technologist Todd Achilles shuttered his innovative ATSC 3.0 startup, Evoca TV, unable to secure tens of millions of dollars in capital needed to keep his venture going.
But this sad culmination belied how close Achilles and Evoca actually came last year to transforming the currently challenged regional sports network model.
According to an executive close to Evoca's dealings at the time, the startup -- which counted Gray Television among its backers -- had the NBA's Utah Jazz and New Orleans Pelicans, and even league Commissioner Adam Silver, seriously considering what it pitched as the "Denver Example."
It was in Denver where Boise, Idaho-based Evoca was bundling AT&T SportsNet Rocky Mountain, home of Major League Baseball's Colorado Rockies, along with Altitude Sports, home of the NBA's Denver Nuggets and NHL's Colorado Avalanche, delivering the package to consumers, primarily via ATSC 3.0, for $25 a month.
Add Next TV to your Twitter feed today! Follow @ThisIsNextTV to keep up to date on the latest business and technology news of the video entertainment industry
As a further enticement, local-area sports fans could receive all of their local broadcast channels via the proprietary Scout receiver Evoca provided to customers. Evoca didn't have to pay retrans on those channels because they were being delivered free and over the air ... via ATSC 3.0.
Sports fans could follow their favorite team, and carve out a respectable skinny bundle with a low-cost complimentary vMVPD like Sling TV, without paying for the Full Pay-TV Monty. And regional sports networks costs weren't being crammed down the throats of TV lovers who don't watch sports.
And with DTC streaming unable as yet to generate RSN-level revenue, teams and leagues were able to keep the golden goose intact.
"The beauty of this model is that it kept the current system going ... It relieved all the pressure points," the insider told Next TV.
Ultimately, Evoca wasn't able to sway what were described by the insider as often obtuse gatekeepers at Northeastern investment banks into providing around $40 million in funding -- a level that, perhaps, was admittedly "too high."
Evoca also couldn't convince Sinclair's Diamond Sports Group, operator of Bally Sports Arizona, the exclusive RSN home of the NBA's Phoenix Suns and WBNA's Phoenix Mercury, to sign onto the Denver Example.
And it couldn't get its station group backers -- which included the E.W. Scripps Company, in addition to Gray TV -- to cough up more coin, either.
In retrospect, the station groups "probably figured they could do [Evoca's plan] on their own," the insider said.
Jump Forward to This Morning
On Friday morning, Gray TV, the Suns and the Mercury generated bombshell headlines, announcing the teams' exit from Sinclair/Diamond's bankrupt Bally Sports regional sports networks umbrella, entering a local broadcast TV deal with Gray TV stations.
If the Suns and Mercury are successful in extricating themselves from their contractual ties with Bally parent Diamond Sports Group -- and that's a big if, depending on what a Texas bankruptcy judge decides in the next few weeks -- the teams will broadcast the majority of their games to 2.8 million viewers across three local stations covering the Phoenix, Tucson and Yuma markets.
Games will also be streamed direct-to-consumer via a platform developed by Kiswe.
Also read -- Diamond Does It: Files for Bankruptcy Looking to Shed $8 Billion in Bally Sports Debt
Updated: Next TV added details needed to clarify the Phoenix Suns TV rights revenue.
The Suns currently make around $24 million a season on an expiring local TV rights deal with Bally Sports Arizona. The team, which has more than $290 million committed to guard Devin Booker alone in a multiyear deal, is reportedly looking to step up to as much as $50 million a season in its next rights deal.
A source familiar with the Suns' TV deal told Next TV, well, what's probably obvious to anyone familiar with sports media -- that licensing local broadcast rights and making almost every game ubiquitously available free-to-consumer wouldn't generate an ad revenue split anything close to $50 million.
"They're not going to just put this out over broadcast TV and lose $50 million a year," the source said.
So we can definitely look for Gray TV, the Suns and the Mercury to further evolve their TV distribution model.
"The potential model has components to it including tiered non-exclusive pay TV distribution, as well as broadcast enabled pay walls via ATSC 3.0. Will those appear all at once? That I don't know. But I do know it can keep rights fees within current parameters," tweeted sports media consultant Patrick Crakes Friday morning.
The ATSC 3.0 possibility, which would allow the teams to control access and monetization, is interesting here.
Notably, in addition to Gray TV, a number of folks associated with the Evoca play also have their fingerprints on the Suns/Mercury deal, including another sports media consultant, Lee H. Berke, who is even quoted in this morning's Gray TV press release (opens in new tab).
Meanwhile, William Morris Endeavor super-agent Karen Brodkin, who represents the Jazz, Pelicans ... and Suns, among other pro sports teams, was also said to have had a foundational role in Evoca's team dealings.
Also notable: The Gray TV press release says the deal will "make games available" to 2.8 million Arizona households. Might this imply that not all of that viewing will be free? Might ATSC 3.0 be used to tier levels of access, as well as viewing features, like 4K?
Jazzed About Self-Distribution
The ongoing Bally Sports bankruptcy restructuring has further destabilized a sports media ecosystem already reeling from a rapid acceleration in pay TV cord-cutting.
On Thursday, for instance, Comcast, the biggest pay TV operator in America, reported its biggest ever quarterly Xfinity TV losses, bleeding out 614,000 more video souls in Q1.
But there are other inflection points, notably Warner Bros. Discovery's announced intention to exit the RSN business.
The NBA's Jazz are currently planning to broadcast their games next season without WBD's AT&T SportsNet Rocky Mountain.
According to a mid-March report in The Athletic (opens in new tab), the Jazz -- which control all of their own TV production -- are looking for a "hybrid approach" to TV distribution, one that marries "broadcast on TV and a direct-to-consumer option."
Under a scenario described to The Athletic by Jazz communications chief Caroline Klein, a certain number of games would be available free over the airwaves, as to not alienate the fanbase, as the exclusive gates of regional channels have over the years. But enough games would be paywalled as to keep revenue flat -- or at least around flat -- with the incumbent but failing RSN model.
Notably, before the NBA's Los Angeles Clippers agreed with Diamond last year to re-up with Bally Sports, the team carved out a deal with Nexstar Media Group to broadcast 15 games for free on KTLA.
As for the Suns and the Jazz, emerging TV distribution goals might not just be about keeping fans happy. These teams might want to avoid a future in which their huge team payrolls can be undermined by companies like Sinclair Broadcast Group, which embarked on several expensive stock buyback gambits after it paid $9.6 billion to acquire the Fox Sports RSNs four years ago.
These buybacks undermined the ability of Sinclair and Diamond to manage the billions of dollars in Bally Sports debt, once erosion to the pay TV ecosystem whittled margins on the Bally Sports channels from around 50% in 2019 to less than 20% today.
"The goal is to not have to rely on these big companies," said an unnamed team president to The Athletic. "You get a big rights fee and that's great but we've watched those companies nose dive over the last few years."
The smarter way to stay on top of the streaming and OTT industry. Sign up below.
Daniel Frankel is the managing editor of Next TV, an internet publishing vertical focused on the business of video streaming. A Los Angeles-based writer and editor who has covered the media and technology industries for more than two decades, Daniel has worked on staff for publications including E! Online, Electronic Media, Mediaweek, Variety, paidContent and GigaOm. You can start living a healthier life with greater wealth and prosperity by following Daniel on Twitter today!