Deadline Extended for Future's Best of Show 2023 at NAB Show Awards
Nominations will now be accepted from exhibitor companies through April 7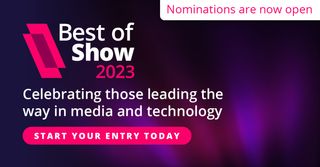 (Image credit: Future)
Future has extended the nominations deadline for its Best of Show 2023 at NAB Show awards (opens in new tab) by one week to April 7. The prestigious annual awards, now in their 10th year, recognize outstanding products and solutions in the Media & Entertainment tech sector shown at the NAB Show.
The awards, from the industry-leading brands of Future plc, provide a great opportunity for companies to stand out at one of the TV sector's most-attended shows. There are a range of benefits from fully licensed winner's badges to physical trophies for display and a suite of winner's marketing assets to editorial coverage from our brands, including Broadcasting+Cable, Next TV, TV Tech, Radio World, Sound & Video Contractor, Mix and TVBEurope.
The Best of Show awards are chosen from companies that exhibit at the NAB Show (April 15-19) and submit nominations (nominees pay a fee to enter). All nominees and winners will be featured in a post-convention Program Guide distributed to our readers. (Here's a look at last year's guide (opens in new tab).)
Click here (opens in new tab) to begin your entry ahead of the April 7 deadline, or continue to browse through the site to find out more about the awards including how to enter, which Future plc brands are involved in the awards, benefits for entering and a range of FAQs. ■
Broadcasting & Cable Newsletter
The smarter way to stay on top of broadcasting and cable industry. Sign up below.
Mike Demenchuk has served as content manager of Broadcasting+Cable and Multichannel News since 2016. After stints as reporter and editor at Adweek, The Bond Buyer and local papers in New Jersey, he joined the staff of Multichannel News in 1999 as assistant managing editor and has served as the cable trade publication's managing editor since 2005. He edits copy and writes headlines for both the print magazine and website, wrangles the occasional e-newsletter and reviews TV shows from time to time. He's also the guy to bother with your guest blog, Fates & Fortunes and Freeze Frame submissions.