B+C Hall of Fame 2023: Soledad O'Brien
CEO, SO'B Productions and Host/Producer, 'Matter of Fact with Soledad O'Brien'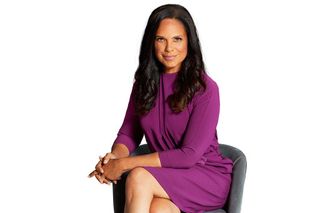 She has a legacy of groundbreaking journalism, her own production company and a stack of awards, including three Emmys and a 2022 Film Independent Spirit Award for HBO docuseries Black and Missing. But don't expect Soledad O'Brien to slow down anytime soon in her pursuit of investigating and sharing stories of human impact through her unique lens of candor.
"Over time, I have learned some fearlessness in asking questions that involve tricky subjects — like rape, like class," O'Brien said. "Sometimes you have to keep drilling down and you can't take some half answer at face value."
Read More: Here's to the 2023 'B+C' Hall of Fame Inductees
Recalling her coverage of Hurricane Katrina for CNN in 2005, when then-Federal Emergency Management Agency director Michael Brown was being showered with kudos for getting supplies into New Orleans, O'Brien said she saw a different scenario. "It would be very easy to stick with the narrative that Brown was doing a great job," she recalled. "But you do have to sort of say, 'Wait a minute, that's not what I'm seeing.' There's a responsibility, an opportunity. Because a lot of people just aren't covering things, and you just have to not give a f*** about the backlash and what comes back to you."
Katrina Was a Pivot Point
O'Brien cited reporting on the Katrina aftermath — for which she remained on-site for months — as a pivotal career moment. "That was the first time I started thinking about, 'What are we trying to do in our coverage?' and understanding how you could consider social implications that were rolled into a story that was not the story of a storm, certainly, but was about who has access and who doesn't."
Another inflection point came with her work on the 2008 CNN docuseries Black in America. "I had not really done a deep dive into anything before that and it was a big, important series and there was a ton of money, time and focus being put into it. It felt to me like the stakes were really high," she said.
O'Brien left CNN in 2013 and launched her own production company, now called SO'B Productions, where she focuses on uplifting "people who are chronically and constantly ignored and left out of the narrative. The voiceless have a voice, but getting someone to want to hear it is a little bit challenging. So if I can use my platform to elevate their message that's what I want to do." She's also expanded her relationships in media including with Hearst Media Production Group, home of political magazine program Matter of Fact with Soledad O'Brien.
O'Brien "elevates the content and identity of this important weekly program with her unique blend of journalistic experience, integrity, compassion and natural curiosity," said Frank Biancuzzo, president of HMPG, who noted that through the series, she "connects with all demographic groups, a rarity in the national news and information space."
Consistent throughout her work is O'Brien's passion for getting to the heart of the story without being sidetracked by the noise and superficial discourse. Her feature documentary The Rebellious Life of Mrs. Rosa Parks, streaming on Peacock and a Critics Choice Award nominee, is a prime example.
Putting Things Into Context
"One thing I've loved about doing Matter of Fact is we spend a lot of time informing viewers about things they have not heard about and giving a lot of context to politics," she said. "We certainly don't have elected officials who sit on either side of the aisle yelling at each other for four minutes. It's not helpful to people. We have so many complicated issues happening and there are so many opportunities to really explain them to people, so why squander that?"
O'Brien is also an active participant in dialogue over social media — she has 1.3 million Twitter followers — including a recent thread regarding her thoughts about working with Don Lemon (spoiler alert: they aren't positive) during her tenure at CNN.
"I don't need to go through my 'people' to give a comment on something that's obviously hurtful and mean and inappropriate," she said. "I can just tweet about it or go on Instagram. People don't always agree with me, which is also fine, but I think you end up in a dialogue, a conversation with your viewers, versus feeling like you're just a disembodied person telling a disembodied story."
Broadcasting & Cable Newsletter
The smarter way to stay on top of broadcasting and cable industry. Sign up below.
Cathy Applefeld Olson is a seasoned entertainment, media and culture journalist, and producer of video content and events. Through her continuing coverage in publications including Forbes, Billboard, XLive, Cynopsis, Broadcasting+Cable and Multichannel News, Cathy reports on evolving industry trends and personalities in business, branding, talent and technology. A passionate believer in the power of culture influencers to elevate well-being, Cathy recently launched the Forbes column Hollywood & Mind, which features interviews with entertainers, sports figures, executives and others who are boosting the conversation around mental health. She also works with music and wellness community Myndstream, for which she writes the monthly State of Mynd blog.