11 Million Will Skip Linear TV and Stream the Super Bowl. Here's Why That's Possible
Live streaming has come a long way but delivering mega-events is still a complex endeavor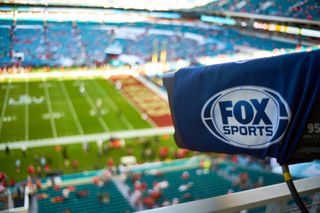 (Image credit: Robin Alam/Icon Sportswire via Getty Images)
When the World Cup had its memorable run in Qatar, I enjoyed watching the matches like everyone else. But honestly, I was much more focused on the technical aspects of the viewing experience for fans worldwide. That's because I was leading the product management team at a streaming analytics technology company that works with FIFA and with broadcast companies such as Disney, NBCUniversal and Univision and over-the-top platforms like Hulu. The same will be true this Sunday for Super Bowl LVII between the Kansas City Chiefs and the Philadelphia Eagles.
Given the magnitude of the Super Bowl and the 11.2 million households (opens in new tab) that streamed the game last year instead of watching it on traditional broadcast or cable TV, let's take this opportunity to acknowledge how far live streaming has come, especially for sports. Back in 2000, Fox experimented with an industry first, attempting to "webcast" (opens in new tab) — as it was called at the time — a college football game between Nebraska and San Jose State. It was a buffering nightmare, which is understandable for an era when households used low-bandwidth dialup modems to connect to the internet. Today, our industry can be proud of how far the streaming experience has advanced in the 20-plus years since then.
During the World Cup final, we saw a peak number of nearly 22 million concurrent viewing sessions, which more than doubled the 9 million that watched via the internet four years earlier. These numbers represent the tremendous pressure events of this magnitude place on publishers to deliver a seamless viewing experience. Not to mention that NFL games were live-streamed as the World Cup took place, adding complexity to back-end planning for viewer surges that could cause screens to buffer or pixelate. Any sports fan will know that missing even a small part of the action because of a technical glitch is tremendously irritating.
Such an experience — if it had occurred — would've been unacceptable during the World Cup. Fortunately, that wasn't the case, and the publishers of the 2022 soccer extravaganza met or exceeded customers' expectations.
Super Bowl LVII is also being approached with a customer-centric mindset. Here's an educational, behind-the-scenes look at how it's technologically possible to live stream the Big Game and other sporting events to millions of people across multiple device types and models, operating systems, broadcast networks and content delivery networks (CDNs).
Forecasting Ebbs and Flows (and Surges)
The athletes participating in the Super Bowl have been getting ready for this game for months. It takes a similar commitment and level of preparation to live stream the game to millions of people, ensuring every single one gets the excellent fan experience they expect. Given the complexity and just one chance to get it right, it's mission-critical to anticipate the unexpected ways things can go off course with a live video stream.
The World Cup spanned 28 days and entailed 20-plus streaming companies. It involved more than six months of planning for expected peak concurrent plays (PCP) and preparing contingencies for anything that could disrupt the viewer experience. Because we've been able to leverage those learnings and the work of more than a decade powering the world's most prestigious live sporting events, our meticulous Super Bowl LVII preparations have been more streamlined, taking just two months.
The ability to effectively plan for unpredictable events starts with historical data, mainly the Super Bowl streaming viewer data from past years. Data is also incorporated from the recent World Cup. which is a helpful baseline for the Super Bowl. Even though the Big Game is more of a North American phenomenon, they are both global events with high concurrent view rates. Forecasters can ensure they model enough resources to handle the Super Bowl's traffic surges thanks to what they learned from the World Cup.
Streaming partners also input their recent historical traffic data to bolster the modeling. Then, it's essential to factor in typical internet usage overall during the Super Bowl and how that might impact people's ability to have the viewing experience they expect. 
Potential surges can be challenging to predict, but this intelligence is essential given that viewership ebbs and flows during a live event. For example, not everyone will begin watching right at the coin flip on Sunday. Several minutes or more may elapse before the peak number of concurrent viewers (PCV) is reached. At halftime, viewership can shift up or down dramatically as people pause or close their player. As the real-time, first-party data comes in from the streaming platforms and our sensors — integrated into each platform's video player or app — this intelligence informs needed adjustments on the fly to improve the viewing experience. For instance, despite having the best traffic calculations available during the World Cup, we saw ad traffic spike unexpectedly during halftime on a day with relatively low overall traffic. So, we reverted to manual scaling capacity and continued this before each game for the rest of the World Cup. That level of preparation paid dividends during the final match, which pushed many of our subsystems to their limit. We had predicted traffic for the match would be between 18 million and 19 million. In the end, there were almost 22 million viewers!
These are the types of situations that professionals behind the scenes will be ready to handle this Sunday, improving the Big Game viewing experience in real time. Speed is crucial. If there is buffering or pixelation that will create bad viewer experiences, the broadcaster and its partners have to know about it instantly and fix it quickly. If that vital data does not flow in real time, phone calls are made. It takes a team behind the scenes to keep the viewing experience going without a major hitch.
Validating via Rigorous Testing
Long before the game begins, a staggering amount of technology infrastructure needs to be implemented to support a streaming event at the scale of a Super Bowl. Nailing the technology is part art and part science. 
Yet, it's not enough to build forecasts and fortify infrastructure for live-streaming gigantic media events. Everything must be validated through rigorous testing in environments that simulate the expected real-world conditions. In other words, getting ready to stream the Super Bowl is a data and technology game that involves engineering know-how and technical support from teams that monitor and evaluate critical systems and dashboards well before the national anthem and kickoff.
Leaving No Stone Unturned
This industry knows from previous live events that there is no room for error. If an issue or incident occurs, viewers might miss the most exciting moment of the Super Bowl, which will lead to public outcry, switching channels, and even churn. So, leaving no stone unturned ensures that any issue is anticipated and addressed before it becomes apparent to viewers. While fans everywhere enjoy the event, a dedicated team puts weeks of preparation into practice, making certain that nothing comes between the viewers and their enjoyment of every second of the year's biggest game.
Super Bowl Sunday is practically a national holiday. The millions of fans who take it in over an internet-based channel will see the product of the media and entertainment industry's advancements over the last two decades and the painstaking work of a dedicated technology plus support team in real time. While the complexity of streaming media continues to grow, what doesn't change is the massive commitment formidable media and technology companies put forth to get the event right for viewers. And now you, too, will know what happens behind the scenes to make those expectations a reality. ■
Broadcasting & Cable Newsletter
The smarter way to stay on top of broadcasting and cable industry. Sign up below.
Jens Koerner is VP, head of product management at Conviva.